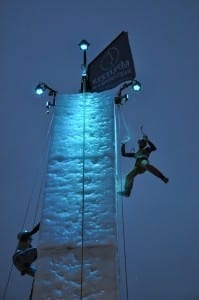 Rabenstein, 18 December 2014 – One and a half months before the start of the Ice Climbing World Championships in Rabenstein/Passeiertal (30 January to 1 February 2015) the organisers of Eisturm Rabenstein have announced the event programme.
The big opening ceremony of the Ice Climbing World Championships takes place on Friday, 30 January at the Thermenplatz in Merano. From 5 p.m. the stars of the ice climbing scene are introduced during a great show with live music, dance performances, a fashion show, a children's programme and many other highlights. The President of the Organising Committee, Reinhard Graf, comments that  "from 6:30 p.m. the world's eight best speed climbers will perform a show contest at the 15 metres high mobile ice tower".
The actual competition begins on Saturday at 9:15 a.m. with the qualification runs in difficulty climbing (lead), the discipline in which the World Championship titles are awarded. The women's semi-final begins at 2 p.m. From 4:30 p.m. the focus shifts to the speed climbers. "Their challenge is to climb the 25 metres high ice tower as fast as possible. No World Championship titles are awarded in Rabenstein in this discipline, it counts as a standard World Cup event. The women's speed climbing finals start at 7:20 p.m., the men's begin approximately 1 hour later", explains Graf.
The awards ceremony for the new world champions takes place on Sunday. Before then, the difficulty climbing semi-final takes place from 8:30 a.m. and the final routes are climbed from 1 p.m. Throughout Sunday there is also a comprehensive entertainment programme. The paragliding team Acro performs daring acrobatics in the air. There will be plenty of wide eyes during the performance of the freestyle team Vitamin F. "Anyone wanting to get involved can take part in the beer crate climbing competition and win amazing prizes. The lead finals are followed by a speed show. The three day ice climbing spectacle concludes with a stunning pyromusical that combines a fire show with music and fireworks", explains the President of the Organising Committee, Reinhard Graf.