The Ice Climbing World Cup is the most important series of competitions organised every year by the international association UIAA. From December to March events are staged in various countries on several continents; at the end the overall winner in the disciplines Lead and Speed is determined.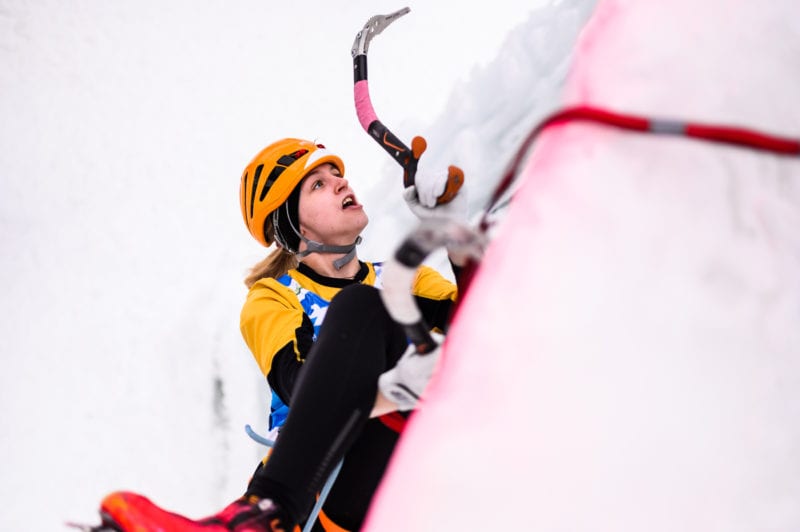 Since 2013, Corvara was a stage of the UIAA Ice Climbing World Cup for seven times in a row. In 2019 Nikolai Kuzovlev and Maria Tolokonina from Russia won the LEAD competition, while their russian Team mates Anton Nemov and Ekaterina Feoktistova won in the SPEED competition. In the upcoming season 2019/20 Corvara will not be a stage of the World Cup.
The history of the Ice Climbing World Cup in Corvara
The World Cup was first staged in Corvara in 2013 when it was decided that the village should become part of the world's most important competition after it had successfully organised four editions of ICEFIGHT. The event in front of over 1000 spectators was a huge success at every level.
A year later, in February 2014, extreme snow conditions forced the cancellation of the event. Although everything in and around Corvara was prepared for the international ice climbing festival, there were massive snowfalls in the days prior to the event. Corvara was completely cut off from the rest of the world. The second edition of the World Cup had to be cancelled because of a serious risk of avalanches and the corresponding risk to athletes, their attendants, officials and spectators.
This meant that following an extremely successful first event in 2013, an act of God meant that there was no South Tyrolean event in the most important series of competitions in ice climbing. This did not alter the fact that from 31 January to 2 February 2015 Corvara again hosted the Ice Climbing World Championships in the Lead category, which also counted as a World Cup event.
These competitions were among the best that were organised in the whole 2014/15 season. It was therefore only logical that the ice climbing event would return to South Tyrol in the following seasons. During the 2016 World Cup in Corvara the World Championships titles were also awarded. Now the best ice climbers of the world gather for the seventh time at the foot of Passo Rombo.