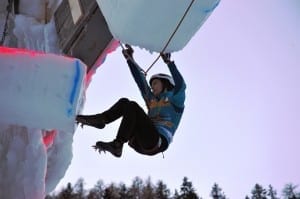 The UIAA ice climbing World Cup in Corvara/val Passiria began on Saturday with the qualification in difficulty climbing and continued in the afternoon with the women's semi final. The two local women Angelika Rainer and Barbara Zwerger reached the final. Herbert Klammer from Lutago is also in the semi final, as is Markus Bendler starting for AVS South Tyrol (Schwendt/North Tyrol).
In the men's competition 63 athletes from 17 nations were represented at the start. There were two different routes and the nine best climbers from each route reached the semi final which will start on Sunday at 8 am. On the first route Maxim Tomilov achieved the best result. He reached the top in only 4.42 minutes. The winner of the World Cup in Saas Fee qualified for the semi final together with Austrian Markus Bendler, the two South Koreans Yung Hee Han and Hee Yong Park, Yevgeni Kryvosheytsev (Ukraine), Ivan Lyulykin, Alexey Dengin, Alexey Vagin (all Russia) and Simon Duverney-Guichard from France.
The second route was climbed by 11 athletes of which only nine could qualify for Sunday's semi final. Mauro Dorigatti starting for AVS South Tyrol came in at 10th place and missed the semi final. Herbert Klammer of Lutago, however, came third and qualified with ease. The fastest man to reach the end of the route was World Champion Alexey Tomilov.
The Russian reached the top in 4.38 minutes. Further athletes fighting on Sunday for a place in the finals are Chang Hyon Lee (South Korea), Nikolay Kuzovlev, Sergey Tarasov, Andrey Volkhontsev, Vasily Terekhin (All Russia), Mincho Petkov (Bulgaria), and Valentyn Sypavin.
The women's finalists are already known
In the women's competitions two difficulty climbs took place on Saturday. Following the qualifying round in which 26 athletes participated, the semi finals took place in the afternoon. Triple World Champion Angelika Rainer from Merano achieved the best result and qualified with ease for the final.
Also participating in the final on Sunday from 1 pm will be Barbara Zwerger from Bolzano. The other finalists are Woon Seon Shin (Korea), Maria Tolkonina, Liudmila Balyan, Anna Gallyamova and Maryam Filippova (all Russia), and Lucie Hrozova (Czech Republic).