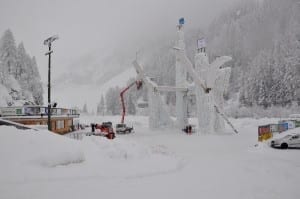 Rabenstein, 4 February 2014 – Due the severe risk of avalanches at warning level four and without any hopes for a change in the weather over the coming days the club Verein Eisturm was forced on Tuesday afternoon to cancel the fifth stage of the UIAA Ice Climbing World Cup. This coming Saturday and Sunday Angelika Rainer & Co. should have battled for World Cup points at this final test before the World Championships, but a "winter of the century" makes this impossible.
The last few days Rabenstein and surroundings have seen more than 2 metres of fresh snow. Because of the resulting severe risk of avalanches the country road to Rabenstein has been closed since the early hours of Friday, 31 January.  On Tuesday the link road to the tiny village with 230 inhabitants at the foot of the Timmelsjoch pass had to remain closed for the fifth consecutive day.
"Two metres of snow fell around the ice tower. We tried what we could in the last few days to clear the facility of snow and to ensure that the ice tower is ready for the competition. And we succeeded: The routes are prepared, all ice blocks are in place. If it was just down to us we could go ahead", says visibly distressed head of the organising committee, Reinhard Graf. If it  wasn't for the huge amounts of snow which only occur in Rabenstein once every hundred years.
Over the last few days the Organising Committee liaised constantly with the country's weather service, talked with the responsible officials of the municipality and consulted the experts from the avalanche commission. A dramatic improvement in the weather is not likely. On the contrary: "More snowfalls are expected on Friday afternoon and during the night into Saturday. Further snowfalls are forecast from Saturday into Sunday. The long term prognosis is not much better, and so it has not been possible to postpone the World Cup for a short time. Naturally, we did consider this alternative", says Florian Lanthaler, founder member of the club Verein Eisturm Rabenstein.
Because of the severe risk of avalanches it is not possible to guarantee the safety of the athletes and the fans. Because of this, and only because of this, the ice climbing World Cup has to be cancelled. "The situation is also dangerous for the club, because despite the closed roads and the ever present risk of avalanches we have worked ceaselessly and done everything we could to ensure that the ice tower is ready for the competition. But  it was in vain: There is nothing we can do in the face of a winter of the century", says Graf.
For the time being the Eisturm Rabenstein is therefore also inaccessible for all other ice climbers who want to pursue their hobby on the most beautiful ice climbing facility in the world. Only after it has finally stopped snowing will it be possible to say when the roads might be re-opened.