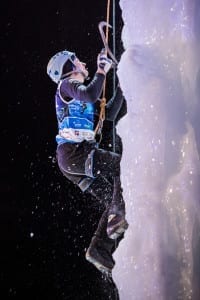 Rabenstein 31st January 2015 – The ice climbing World Cup speed competition ended with two russian victories.
Vladimir Kartashev on Saturday evening was the fastest man with a time of 9,61 seconds. He climbed the 15 meter high wall 0,02 seconds faster than Nikolay Primerov.
The women's speed competition was won by Maria Krasavina (12,09). It was the 11th fastest time in the mens field.
Results_Men_Speed_WC_Rabenstein_31_01_2015
Results_Women_Speed_WC_Rabenstein_31_01_2015

Foto: Harald Wisthaler