Bolzano/Corvara, 23 December 2015 – The 2015/16 season in Corvara for all lovers of ice climbing was originally planned to begin on Saturday, 26 December. Unfortunately, the unseasonally high temperatures forced the Association Verein Eisturm Rabenstein to change their plans.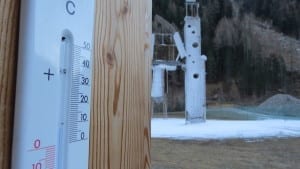 "A week ago we had one night with temperatures distinctly in the minus region. We immediately used this to start ice production. In the subsequent days, however, the thermometer climbed upwards again and we had to switch our machines off", explained Reinhard Graf of Eisturm Rabenstein.
The traditional opening of the season on Saturday, 26 December, has been postponed indefinitely. "According to the various weather forecasts temperatures remain mild for at least another few days next week. The New Year is expected to bring with it colder air and we hope that we can start with icing up and open our facility then. We will keep everyone informed of the developments through our usual channels of information such as our website and our Facebook pages", continued Graf.
Three major events are scheduled for Eisturm Rabenstein this winter. On Sunday, 17 January 2015 the traditional Psairer Bauernmeisterschaft championships will take place. In the last week of January (29 to 31) the best ice climbers of the world come to the UIAA World Cup in Val Passiria. A week later, from 5 to 7 February, Rabenstein stages the Junior World Champions for the age groups U22, U19 and U16.