Bolzano/Corvara, 21 December 2017 – it looks promising in Corvara: If everything continues to go according to plan, the ice climbing facility in Val Passiria will open as usual on Boxing Day (Tuesday, 26 December). Currently, the construction of steel and concrete is covered by an almost 1 m thick layer of ice.
Since the beginning of December the Club Eisturm Rabenstein has been making use of the frosty temperatures and has been icing up the facility virtually round the clock. The ice climbing structure that has proved its value in World Cups, has been growing centimetre by centimetre every hour. If it remains as cold as now, there will be nothing to stop the ice climbing fun on 26 December. "The facility is already in a fantastic condition. We can barely wait for the opening on Boxing Day and we are excited to welcome the ice climbers in Corvara", said Club President Reinhard Graf, who is also chair of the Organising Committee of the South Tyrolean stage of the Ice Climbing World Cup.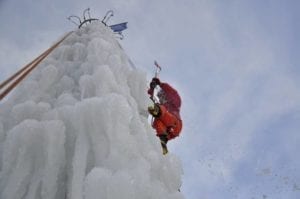 During the opening of the 2017/18 season on Tuesday, 26 December, there will be a bubble soccer match  – like last year, on a perfectly prepared playing field in the grounds of the sports facility in Val Passiria. The registered four a side teams will face each other from 2:00 pm. The ice tower then remains open to the public for four days a week, Tuesdays and Fridays from 7:00 pm to 10:30 pm, and Saturdays and Sundays from 1:30 pm to 7:00 pm.
The sporting highlights in the three-month long ice climbing season are the Psairer Bauernmeisterschaft championships on Sunday, 14 January, and the Ice Climbing World Cup, that will be taking place in Corvara for the 6th time on Friday, 26 and Saturday, 27 January. For the first time the finals will take place in the evening in floodlight, which will give the event its own special atmosphere.