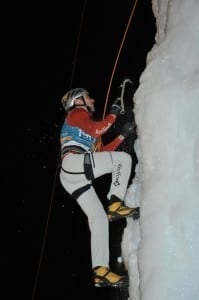 On Saturday the first winners of the World Cup event in ice climbing were celebrated in the val Passiria. In the speed discipline, where the challenge is to climb the ice tower as fast as possible, Russians Pavel Gulayev and Maria Krasavina prevailed and strengthened the leading position of this geographically largest country on earth in this discipline.
The ice tower in Corvara is 25 metres high. On Saturday, however, only 15 meters were climbed. The fastest time was achieved by Pavel Gulyaev who took 11.67 seconds. Second came World Champion Alexey Tomilov with 12.65 seconds before Egor Trapeznikov with 12.76 seconds. All three speed climbers come from Russia, the country that has led the way in speed climbing for many years. Only last weekend the Dutchman Dennis Van Hoek was able to break through this phalanx and claim victory in Saas Fee. In Corvara the rake-thin tall man achieved fourth place.
In the women's competition the Russians also claimed the first three places. Maria Krasavina won before Julia Oleynikov and Maryam Filipova. Krasavina, who had already been first a week ago in Saas Fee, achieved victory with 15.79 seconds. This time would have taken her to 12th place in the men's competition.
On Sunday 27 January the day Ice Climbing World Cup continues with the men's semi-final in difficulty climbing. It will start at 8:15 am. The women's and men's finals are scheduled for 1 pm. Taking part will be the two South Tyroleans Barbara Zwerger and triple World Champion Angelika Rainer. In the men's team Herbert Klammer from Lutago will to everything he can to reach the finals.
UIAA ice climbing World Cup Corvara/val Passiria, Speed Men:
1. Pavel Gulyaev (RUS) 11.67 seconds
2. Alexey Tomilov (RUS) 12.65 seconds
3. Egor Trapeznikov (RUS) 12.76
4. Dennis Van Hoek (NED) 13.58
5. Pavel Batushev (RUS) 13.88
UIAA ice climbing World Cup Corvara/val Passiria, Speed Women:
1. Maria Krasavina (RUS) 15.79
2. Julia Oleynikova (RUS) 17.65
3. Maryam Filippova (RUS) 18.95
4. Maria Tolokonina (RUS) 19.65
5. Ekaterina Feoktistiva (RUS) 21.16